June 2020 Newsletter
Lake Washington/Cedar/Sammamish Watershed
Water Resource Inventory Area (WRIA) 8
Support Puget Sound recovery by participating in virtual "Puget Sound Days on the Hill"
As an alternative to the "Puget Sound Day on the Hill" event in Washington, D.C., cancelled due to COVID-19 precautions and travel restrictions, Puget Sound Partnership and the Northwest Indian Fisheries Commission have scheduled a series of virtual "Puget Sound Days on the Hill" session with members of Congress, on Fridays in June and July. Partners in Puget Sound and salmon recovery are invited to participate. Discussions will focus on economic stimulus funding, Puget Sound restoration and protection, salmon recovery, and the powerful economic benefits of ecological restoration projects.
Each member of Congress or special guest will speak for about 25 minutes. Participants will be able to post questions for the speakers during a moderated Q&A session.
Puget Sound Partnership and Northwest Indian Fisheries Commission will send regular announcements with confirmed speakers for each week as well as a registration link for each event. Learn more about this virtual event series.
---
Economic study shows floodplain restoration supports revenue!
A recent American Rivers report on the Economic Outcomes of Urban Floodplain Restoration indicates restoration of urban rivers can result in positive net impacts to local and state budgets. In light of the economic impacts of COVID-19, it is critical to understand and articulate the economic outcomes of our efforts as we work to restore healthy, functional rivers, increase equitable access to open space and sustainably grow our economies in the future. American Rivers notes they intend this report to serve as a resource for communities as they develop plans and policies to achieve multiple benefits along their rivers.
---
Youth Outreach Program "Forests and Fins" Virtual Field Trip
The Mountains to Sound Greenway Trust's Education Program invites youth and their families to learn about Pacific Northwest salmon by watching these videos and completing the paired activities. Join a Greenway Educator for a virtual Forests and Fins field study trip.
You'll see how we figure out if the river is healthy habitat for salmon by studying four aspects of stream health: (1) the riparian zone, or the area along the stream where the plants grow, (2) the stream channel, (3) macroinvertebrates, or stream bugs, (4) and the water chemistry. After you watch the investigation, we invite you to use the data to determine whether or not the Tolt River provides healthy habitat for salmon. Print the Virtual Field Trip Worksheet ahead of time so you can follow along with Val and make your own conclusion! The Forests and Fins curriculum is funded in part by the Lake Washington/Cedar/Sammamish Watershed (WRIA 8) and King County Flood Control District.
---
Color Your Kokanee!
The Snoqualmie Indian Tribe has created a fun workbook to learn more about the Kokanee, as well as learn the important geography of Lake Sammamish and the Salish Sea that make up the habitat and the lands of our indigenous people!
---
Juvenile chum salmon swimming along the new Seattle seawall. Photo: Mike Caputo/UW
New Seattle seawall improves migratory pathway for young salmon
Even in some of the most heavily developed areas, new and updated infrastructure can support salmon with creative design elements. A recent story by the Puget Sound Institute highlights how innovative design features of the new Seattle seawall are improving conditions for juvenile salmon migration and other marine life.
---
@iStock
Participate in "Climate Change in the Time of Coronavirus" webinar
Part of the "Climate Science on Tap" series, this June 23 webinar (focuses on how the coronavirus and our response to the pandemic is affecting carbon emissions, and possible insight into ways this experience could help address climate change. Register for the webinar.
Panelists include:
Kimberly Cartier, Ph.D., EOS Science News by the American Geophysical Union
Eric de Place, M.A., Director, Thin Green Line, Sightline Institute
Nives Dolsak, Ph.D., School of Marine and Environmental Studies, University of Washington
Moderator: P. Sean McDonald, Ph.D., Program on the Environment, University of Washington
---
New Low Impact Development Guidebook for local governments
The Washington State Department of Commerce's Guidebook: Incentivizing Low Impact Development (LID) Beyond Permit Requirements presents ways that local governments can incentivize developers to voluntarily incorporate LID on projects in urban growth centers. Using input from interviews, a project advisory committee, and social marketing research, we assessed perceived barriers and motivators for developers to provide guidance and policies to help local governments incentivize developers. The Guidebook includes tools and outreach materials that local governments can utilize to encourage developers to go beyond existing stormwater requirements; including factsheets for best management practices and a variety of incentive programs. View and download the Guidebook.
---
Courtesy of the New York Times: A farmer walked through a burned area of Amazon rainforest near Porto Velho, Brazil, last year Carl De Souza/Agence France-Presse — Getty Images
Salmon in the news
Mass Extinctions Are Accelerating, Scientists Report
A recent article in the New York Times highlights the newest study from Dr. Gerardo Ceballos, an ecologist at the National Autonomous University of Mexico and lead author of a new study, documenting the decline of global ecosystem accelerating at an alarming rate. Dr. Ceballos and his colleagues found that in the last 100 years, 543 species have gone extinct. Under normal biological lifecycles the extinction cycle takes 10,000 years. At this rate, scientists expect to lose 500 more terrestrial vertebrate species within the next two decades. Scientists agree slowing the rate of extinction requires immediately reducing human consumptive demands on our biosphere and continuing species-specific conservation efforts.
Habitat Restoration Effort Supports Record Number of Salmon Nests
American River at Sailor Bar, Fair Oaks, California
The lower American River in Northern California is home to 43 fish species, including struggling fall-run Chinook salmon and federally threatened Central Valley steelhead. The Sacramento Water Forum's recent effort to improve salmon spawning in the fall of 2019 resulted in 345 salmon "redds" or nests, compared to zero redds the previous year. The multi-partner effort, spearheaded by the Water Forum involved placing more than 14,000 cubic yards of cleaned and sorted gravel into the river and creating a new side channel to help fish spawn and increase rearing habitat. Tom Gohring, Executive Director of the Water Forum said, "Salmon were here long before we were. Nurturing their survival is not only important to sustaining a species but to also sustaining our region's identify and quality of life." Learn more about the Sacramento region's habitat restoration work on the lower American River.
Bending the Curve of Global Freshwater Biodiversity Loss: An Emergency Recovery Plan
A new plan developed to protect and recover freshwater species calls for adjusting targets and indicators for the Convention on Biological Diversity (CBD) and the Sustainable Development Goals (SDG), and identifies roles for national and international state and non-state actors to dramatically reduce the impacts from humans. With wetlands diminishing faster than forests, and populations of freshwater vertebrate species falling more than twice the speed of terrestrial populations, six priority actions focus on implementing measures to reverse the decline.
This chart illustrates the anticipated impact of immediately and globally implementing the six priority actions to vastly improve the current trajectory in recovering freshwater habitats.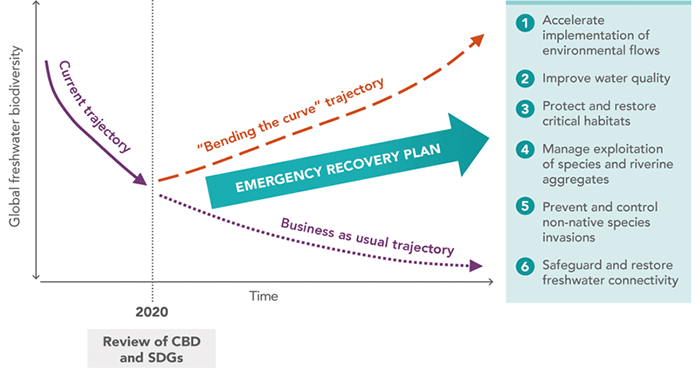 The Emergency Recovery Plan for freshwater biodiversity: Six priority actions for global action to bend the curve of freshwater biodiversity loss that should be reflected in the post-2020 biodiversity framework. Threats to freshwater biodiversity are often synergistic so coherent planning of interacting priority actions to address such threats is necessary. BioScience, Volume 70, Issue 4, April 2020, Pages 330—342
---
Grant Funding Request for Proposals
2020 NEP Coastal Watershed Grant Request for Proposals
The National Estuary Program (NEP) Coastal Watersheds Grant (CWG) Program is a newly created, nationally competitive grants program designed to support projects that address urgent and challenging issues threatening the well-being of coastal and estuarine areas within determined estuaries of national significance.
Restore America's Estuaries will be administering the NEP CWG Program in cooperation with the U.S. Environmental Protection Agency. Grant amounts will range from $75,000 to $250,000. Non-federal matching funds are required — details are in the Request for Proposals. All projects must occur in their entirety within the geographic areas shown on the map. Letter of intent submittals are due by 5 pm PT/8 pm ET on Friday, August 7.
---
Chinook salmon (also known as king salmon) are listed as threatened under the Endangered Species Act. In WRIA 8, citizens, scientists, businesses, environmental and community organizations, and local, state and federal governments are cooperating on protection and restoration projects and have developed a science-based plan to conserve salmon today and for future generations. Funding for the salmon conservation plan is provided by 28 local governments in the watershed. For more information visit our website at www.govlink.org/watersheds/8/.
If you would like to submit an item for inclusion in the next WRIA 8 e-newsletter, please email Jason.Mulvihill-Kuntz@kingcounty.gov.