February 2018 Newsletter
Lake Washington/Cedar/Sammamish Watershed
Water Resource Inventory Area (WRIA) 8
Land Conservation Advisory Group Final Report
As part of King County's Land Conservation Initiative, the Land Conservation Advisory Group, made up of businesses, land conservation organizations, cities, environmental groups, and other stakeholders, released their final report to King County Executive Dow Constantine and the King County Council in December 2017. The report endorses the goals of the Land Conservation Initiative and provides recommendations for approaches to implement the proposal, including recommendations on timeline, strategies for engaging with partners, public and private funding options, and implications for the County's Parks Levy, which is up for renewal in 2019.

---
Regional Open Space Conservation Plan
Puget Sound Regional Council (PSRC) has released their draft Regional Open Space Conservation Plan, for the purpose of accelerating the conversation of open space now and into the future. They are accepting comments through March 8, 2018 via email. The plan will be completed by Summer 2018.

---
Approved State Capital Budget
On January 18, the state legislature passed the capital budget, which included the following appropriations for funding programs prioritized by WRIA 8:
Puget Sound Acquisition and Restoration - $40M
Salmon Recovery Funding Board - $19.7M (includes WRIA 8's allocation to support our annual grant round and $2.4M for grants to salmon recovery Lead Entities, which supports WRIA 8 staffs' project development and grant round coordination work)
Floodplains by Design - $35.3M (it appears this amount fully funds King County's Riverbend Floodplain Restoration project on the Cedar River as one of seven projects to receive funding from the program's prioritized project list)
Stormwater Financial Assistance - $55.1M (provides grants to local governments for stormwater management projects)
---
Pacific Salmon in Hot Water Webinar
Aimee H. Fullerton, PhD., Research Fisheries Scientist at NOAA, will be presenting a webinar on March 6, 2018 from 12 p.m. to 1 p.m. titled "Pacific salmon in hot water: past, present and future of thermal diversity in rivers."
---
Green Shores for Homes Workshop
Washington Sea Grant in cooperation with the City of Kirkland is offering a free one day workshop March 9, 2018 from 9 a.m. to 4 p.m. on Green Shore for Homes, a program that helps homeowners retain and restore natural shorelines. Register for the workshop. Space is limited to 25 people. To learn more contact Nicole Faghin, or Christian Geitz.
---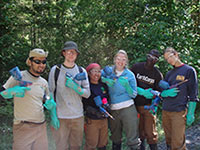 Puget Sound Knotweed Forum
This year's forum for the Puget Sound Knotweed Working Group will be on Wednesday, April 18 from 9:00-11:30am at the Lodge on Beaver Lake in Sammamish, WA. The forum will feature discussions and presentations in social media applications for land management projects, data-driven strategies for communication with landowners, and a project overview of Snohomish County's helicopter survey of the Skykomish River. Please RSVP. An official agenda, directions, and more information will be sent out in March.
---
Salmon in the news
Photo by Larry Franks
Light Pollution Identified As Potential Issue for Threatened Puget Sound Chinook Salmon
U.S. Fish & Wildlife and NOAA Fisheries researchers are looking at how artificial light impacts juvenile salmon in Lake Washington and are testing different types of lights to see if there is one that might be less attractive to the juvenile Chinook.
Environmental impact of salmon decline: This isn't just about fish
Seattle Times article highlights the complex role salmon play in our ecosystem, distributing nutrients and providing benefits for more than 135 other fish and wildlife populations, what factors are contributing their decline, and what can be done.
Pacific Northwest salmon are in big genetic trouble
Science Magazine reports on a study that shows over the past 7,000 years, Columbia River Chinook salmon have lost two-thirds of their genetic diversity and Snake River Chinook have lost one-third.
Pesticides threaten Pacific Northwest salmon and whales, new federal study says
The National Marine Fisheries Service issued a new biological opinion at the end of 2017, finding that three widely used farm pesticides pose a threat to endangered and listed species, including Pacific salmon and Puget Sound orcas.
House approves phasing out Atlantic salmon net-pen farming
On February 14, the House passed a bill that would phase out net-pen farming of Atlantic salmon, as well as an opportunity to revisit the issue, pending a study required by the bill. The study would provide guidance for operations to eliminate escapes and negative effects on water quality and native fish and is to be completed with a report to the Legislature by November 1, 2019. This bill will be considered by the Senate next.
---
Funding opportunities
National Coastal Wetlands Conservation (NCWC)
The Department of Ecology is soliciting proposals for National Coastal Wetlands Conservation (NCWC) grants. The Notice of Funding Opportunity (NOFO) for the FY19 grant cycle is pending review at the DOI, but states have been encouraged by USFWS to start developing project applications now and use the FY18 funding program guidelines to get started on the pre-proposals.
Only state agencies are eligible to apply for NCWC grants, however, the Department of Ecology supports projects from partner organizations that will conserve coastal wetlands. Over the years, Ecology has been extremely successful in obtaining NCWC grant funding for acquisition and/or restoration of coastal wetland ecosystems on behalf of their partners, and they encourage those partnerships again this year.
Local project sponsors should contact Heather Kapust (360-407-0239) to discuss proposals in advance of March 26-30 site visits. Final applications are due to the Department of Ecology on June 18, to be submitted to USFWS by June 29.
Puget Sound Stewardship & Mitigation Fund
Rose Foundation for Communities and the Environment is accepting proposals for the 2018 Puget Sound Stewardship & Mitigation Fund. The Fund's goal is to mitigate past pollution runoff by supporting community-based efforts to protect or improve the water quality of Puget Sound. Since inception in 2012, over $3 million in grants have been awarded for projects in Puget Sound related to conservation, restoration, citizen science, environmental justice, shoreline access and environmental education. Applications are due on March 2, with a maximum proposal request of $25,000.
Brian Abbott Fish Barrier Removal Board

The Brian Abbott Fish Barrier Removal Board (FBRB) is now accepting grant applications for fish passage projects. This program seeks to correct complete or partial barriers to anadromous salmonid fish passage, and competitive projects will be upstream or downstream of another barrier correction project that has either been completed since 2010 or is currently funded and scheduled for construction by 2021. Proposals will be considered for planning (design-only) and restoration (construction) projects. A minimum 15% match is required for restoration projects; match applies only in certain circumstances for planning proposals. Draft applications are due on March 29, and selected applicants will be notified by May 31 if they are being invited to submit full applications.
---
Chinook salmon (also known as king salmon) are listed as threatened under the Endangered Species Act. In WRIA 8, citizens, scientists, businesses, environmental and community organizations, and local, state and federal governments are cooperating on protection and restoration projects and have developed a science-based plan to conserve salmon today and for future generations. Funding for the salmon conservation plan is provided by 28 local governments in the watershed. For more information visit our website at www.govlink.org/watersheds/8/.
If you would like to submit an item for inclusion in the next WRIA 8 e-newsletter, please email laura.west@kingcounty.gov.