April 2018 Newsletter
Lake Washington/Cedar/Sammamish Watershed
Water Resource Inventory Area (WRIA) 8
Salish Sea Ecosystem Conference Recap
On April 4 — 6, the Salish Sea Ecosystem Conference convened scientists, First Nations and tribal government representatives, resource managers, community and business leaders, policy makers, educators, and students in downtown Seattle to present the latest science on the state of the ecosystem, and to guide future actions for protecting and restoring the Salish Sea ecosystem. The conference featured a welcome from tribal representatives, a keynote address by former U.S. Secretary of the Interior, Sally Jewell, and plenary comments from Governor Jay Inslee and King County Executive Dow Constantine. WRIA 8 hosted a poster during the poster session highlighting the critical Ballard Locks infrastructure repairs, which are needed to ensure effective fish passage and investment in restoration in the broader watershed. More information about the conference is available at the conference website, where the full suite of presentations and additional information should be posted soon.
---
Governor's Orca Executive Order
Credit: Courtesy of Dr. Brandon Southall, NMFS/OPR. CC BY 2.0
Governor Inslee issued Executive Order 18-02 on March 14, implementing immediate actions to benefit Southern Resident Killer Whales. The order established a task force to identify and prioritize long term actions, and directed state agencies to perform immediate actions and planning to identify priority watersheds, increase training for whale watching vessels, decrease noise from state ferries, protect key fish runs, alter fish food used in state hatcheries to limit PCBs in prey, prioritize financial assistance for stormwater projects, and more.
---
Puget Sound Climate Preparedness Collaboration — Public Convening May 11
Local and tribal governments and regional agencies have partnered to establish the Puget Sound Climate Preparedness Collaborative. The Collaborative was created to enhance coordination and improve the outcomes of climate change preparedness efforts in the Puget Sound region, with emphasis on the intersection of climate change impacts on public sector responsibilities (e.g., economic and community resilience, infrastructure, natural resource management, public health, hazard mitigation, etc.)
The Collaborative is hosting a public convening to discuss climate change, extreme precipitation, and stormwater management on Friday, May 11 from 10am-2pm at SeaTac Airport. View more information and registration.
---
Federal Funding for Puget Sound recovery maintained
Congress passed the Fiscal Year 2018 omnibus spending bill on March 22nd, funding the federal government through September 2018. The bill maintains current funding levels for the EPA's Puget Sound Geographic Program, the National Estuary Program, and the Pacific Coast Salmon Recovery Fund (PCSRF). Congressional delegates worked tirelessly to secure this funding, after President Trump's initial proposed budget zeroed out funding for Puget Sound recovery. More information can be found from the Puget Sound Partnership.
---
2018 Supplemental Budgets Pass with Benefits to Puget Sound Recovery
The 2018 Legislative Session ended on March 8th and Governor Inslee signed the 2018 Supplemental Operating and Capital Budgets on March 27th. The 2018 Supplemental Operating Budget includes $2.232 million for Puget Sound Partnership and $1.5 million to Washington Department of Fish & Wildlife (WDFW) for Southern Resident orca recovery, including funding to increase hatchery production of key prey. The Supplemental Capital Budget increased funding for Puget Sound health and orca recovery and appropriates funds in the 2017-2019 Capital Budget for watershed restoration and enhancement and improvements to the Floodplains by Design grant program.
For more information, see Puget Sound Partnership's March 16th Legislative Wrap-up.
---
SeaDoc Society's book launch and photo contest highlight beauty of Salish Sea ecosystem and inspire outdoor exploration
SeaDoc Society recently published "Explore the Salish Sea: A Nature Guide for Kids" and hopes to make the book available to all 5th and 6th graders in the region. You can meet the authors at local book events throughout the region from April-July 2018. SeaDoc Society is also soliciting submissions for their Salish Sea in Focus nature photography competition from April 20 — June 4, 2018.
---
Salmon in the news
Supreme Court hearing on fish passage barriers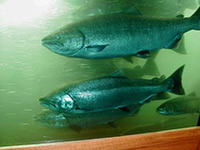 Photo by Geoff Clayton
This Is Why You Don't See People-Sized Salmon Anymore
NPR reports that Chinook salmon have been shrinking in number and size over the last century as a result of dams, overfishing, habitat loss, impacts of hatcheries, and predators. Older fish are coming back from the ocean earlier and fewer fish are making it to old age as orcas tend to prey on the older and larger fish. While the Puget Sound orca population is struggling, the Alaskan population is increasing quickly and they're eating Chinook from all over the NE Pacific Ocean.
Puget Sound salmon do drugs, which may hurt their survival
Researchers at NOAA's Northwest Fisheries Science Center have found Puget Sound Chinook are picking up our drugs as they swim through effluent of wastewater-treatment plants, and it may be hurting their survival. Studies show the exposure to contaminants can stunt growth rates and disrupt metabolism of juvenile Chinook. Wastewater treatment plants are designed to remove and disinfect solids but can't screen out drugs that humans express through elimination.
Fish council Oks sharp cut in sport Chinook harvest off Washington
The Pacific Fishery Management Council approved a measure to cap Chinook harvest for recreational fishermen off Washington's coasts at 27,500 fish, nearly 40% less than last year. Non-tribal commercial fishermen will have the same cap. Warmer ocean temperatures in 2015 and 2016 reduced food supplies and survival rates for juvenile Chinook and low water flows in 2015 made spawning more difficult.
Tim Eyman withdraws referendums seeking vote on Atlantic salmon net-pen ban
Eyman withdrew the two referendum petitions he filed on March 15 that would have put HB 2957 to a public vote. Governor Jay Inslee signed HB 2957 into law on March 22, phasing out open-water Atlantic salmon net pens in Washington by 2025. The bill passed the Legislature by wide margins and garnered a lot of public support.
Seattle area is seeing more intense and frequent rain events
Sport, Tribal fishermen speak as one on salmon habitat recovery issues
A public plenary session co-hosted by tribes and Washington Department of Fish and Wildlife (WDFW) during the annual North of Falcon highlighted shared concerns between sport and tribal fishermen over habitat restoration and salmon recovery.
2nd Northern Pike caught in Lake Washington, but unfortunately released
A bass angler caught a Northern Pike in Lake Washington in recent weeks, but released it just south of Mercer Island. Northern Pike are a non-native invasive aquatic species and pose a huge threat to native species in Washington. Washington Department of Fish and Wildlife (WDFW) classifies Northern Pike as 'prohibited' and requires them to be killed before leaving the water in which they are caught, to prevent further spreading.
---
Chinook salmon (also known as king salmon) are listed as threatened under the Endangered Species Act. In WRIA 8, citizens, scientists, businesses, environmental and community organizations, and local, state and federal governments are cooperating on protection and restoration projects and have developed a science-based plan to conserve salmon today and for future generations. Funding for the salmon conservation plan is provided by 28 local governments in the watershed. For more information visit our website at www.govlink.org/watersheds/8/.
If you would like to submit an item for inclusion in the next WRIA 8 e-newsletter, please email lwest@kingcounty.gov.